Meet your dental implant surgeon, Phil Gardiner.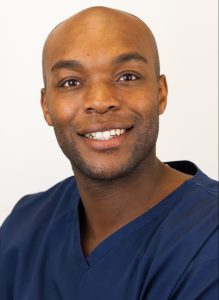 My vision for implant dentistry at Woodbury Park is to simply make it 'normal'. My job is to take you through the process as seamlessly and easily as possible.
My dental implant journey started in 2013 at the Dentale Clinic in Shrewsbury. Following my early and advanced training there, I undertook further training in Harley Street and then re informed my knowledge by taking membership of the Faculty of General Dental Practitioners and continued on to the Diploma in Dental Implantology at the Royal College of Surgeons.
My training encompasses all aspects of dental implant surgery, including extensive bone grafting and sinus lift procedures. The training has also taken me all over the world and afforded me the great benefit of being taught by the most prominent surgeons in the field of dental implantology. Now, I work as an implant surgeon in practices from Cardiff, Wales to North London, receiving referrals for both complex and routine implant dentistry, partnering with Astra Implants. I also teach and mentor other dentists to both place implants and restore them. I believe that dental implants are a normal part of dentistry and have allowed patients the world over to make a lasting difference to their lives.
Your Dental Implant Experience
From the very beginning, the focus is on you, your needs and mainly how we can help you to achieve a healthy and confident smile that not only looks good but functions well and lasts. We have invested a great deal in the very best 3D scanning equipment, allowing us to plan your treatment with you to a very high degree. We have also partnered with the world leading Astra dental implant system which is highly documented and offers you expert implant quality.
Our treatment co ordinator and myself are with you every step of the way to make sure that your treatment is as predictable as possible.
We are committed to long term support, and as such, have the gold standard equipment to maintain your implant, in the form of EMS Air-Flow. We also have fantastic hygienists to boot! Maintenance is key and we have you covered every step of the way.